7 RGB Lights Available
Fading light mode and flashing light mode
Mini Power Button to Turn ON/OFF
Blank well-made 7cm*9.5cm cast blank acrylic plate
100% Pure Cast Acrylic Plate with Protective Films
Working up to 2.5~4 hours
CE, RoHS and FCC
Lead
LED Acrylic Badge - Ideal Choice for Laser CNC Engraving Project
If you use a CNC router or CO2 laser engraving machine to create acrylic panels, this RGB LED acrylic badge is the perfect component for you! Save time while providing a professional, finished look for your "Mini LED Key Chain, mini custom made gift, LED name card" projects.
7 RGB Lights and Power Switch
This compact acrylic badge includes 2pcs built-in CR1220 button batteries and it lasts up to 3~4 hours. You can change to new batteries when they are running out of power.
Mini Compact Design
LED acrylic badge kit includes one pc well-cut blank cast acrylic plate. You can choose 5cm*6cm, 4cm*5cm or round 6cm blank plate.
RGB LED acrylic badge comes with protective films to prevent scratching during the delivery.

Note: If you need custom-made size/shape well-cut blank cast acrylic plates, please contact our sales team.
Custom Design on Acrylic Plate
Give custom led keychains to your family members and friends.
Add your logo and hand out promotional led keychains to your employees or at a tradeshow event to increase brand exposure.
Create something unique and individual for your promotional events.
Get ready to be the light in the darkness with these cool LED glow keychains.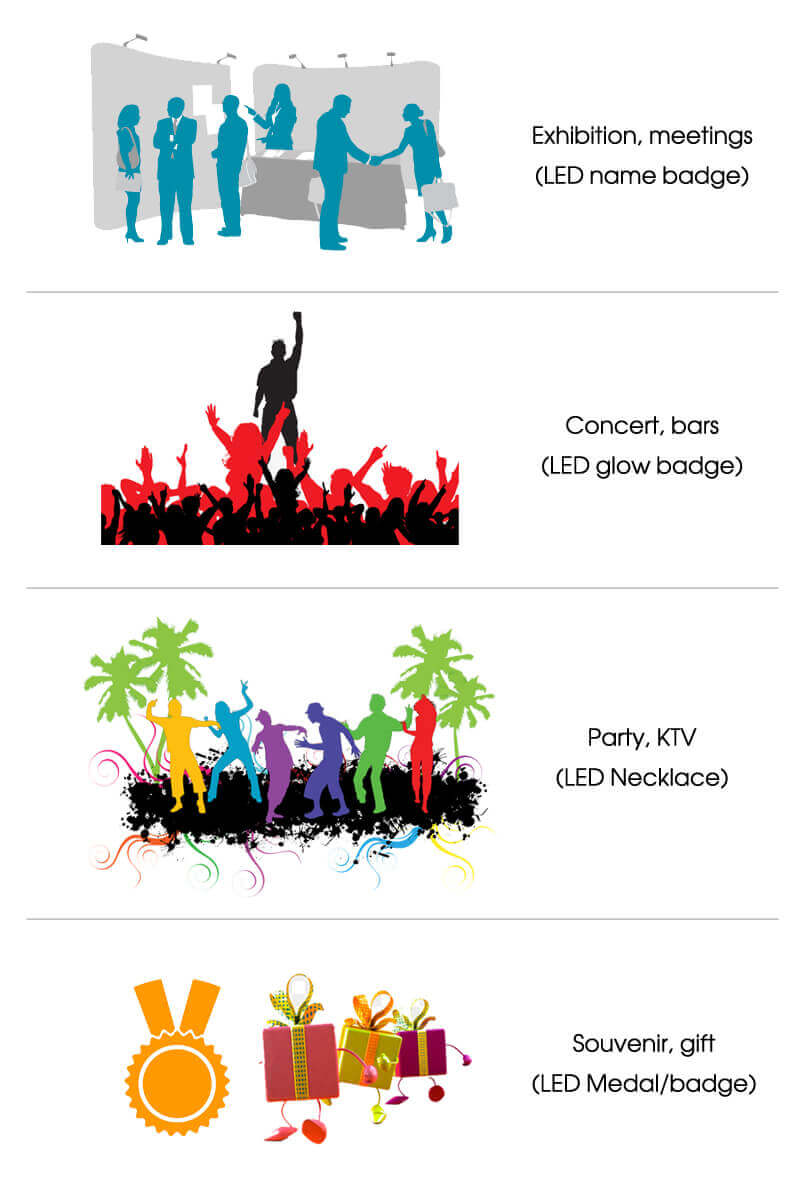 Specifications:
| | |
| --- | --- |
| Model Number | TDL-N |
| Light Color | Red, blue, green, white, purple, ryan light, fading light mode and flashing light mode |
| Power Input | 2 pieces CR1220 (included) |
| Working Time | 2.5~4 hours |
| LED Quantity | 1 piece RGB LED |
| Material | ABS and Cast Acrylic |
| Net Weight | 38g |
| Unit Package Weight | 0.05KG |
Packing List:
Each kit includes: 1 piece RGB LED acrylic badge with 40cm lanyard
Pack in white gift box

FAQ:
1. What's the power source?
- There are 2pcs CR1220 button batteries. You can change to new batteries when they are out of power.
Please put power button in OFF Position when you do not use it.

2. Will it get scratched during the delivery?
- There are protective films on both sides of the acrylic plates. It won't get scratched.

3. What is the battery life?
- Normally it lasts for 3~4 hours for red, blue and green lights. It lasts for 2~3 hours for white and RGB lights. It is advised to use several minutes every time, turn turn it off and insert the battery insulation film.

4. How can I change new batteries?
- You can order CR1220 button batteries in local store. Screws off the screws and load new button batteries.

5. Can I order extra blank acrylic plate only?
- Yes, you can. Please contact our sales team.

Below is the user's guide video for LED Acrylic Badge.



Why Choose us?
●
Low Minimum Order Quantity of 5 piece (Sample/Trail Order is Welcome)
●
Competitive Wholesale Prices and Low Shipping Cost
●
Flexible Shipping Ways (trackable online)
●
Short Leading Time (1~3 Working Days Normally)
●
Professional Custom Made Design Service and Fast Sampling
● CE, RoHS and FCC Certificatoin
● One Year Warranty
OEM Services:
Custom Acrylic Size/Shape (MOQ is 50 pieces)
Custom Made Gift Box: Yes (MOQ is 5,000 pieces)
Custom-made Design Order Process:
(1) Send inquiry to us with your photo/logo and detailed requirements;
(2) We design and let you confirm the design photo;
(3) We make the sample and ship it to you.

Please list the model numbers, estimated order quantity and shipping country when you fill inquiry form.